Towing in Billings Montana
Check Out Our Customer Feedback!
Good people and great service

Great help after my truck was in an accident

These men have got to be about the nicest people. I had a horrible experience with Abel tow company, and this company told me what my rights are and were extremely helpful in a very stressful situation. I am very grateful for their help.

After breaking down on the side of the interstate 50 some miles from Billings, I had called another tow company for assistance. The gal I had spoken with at that company was so incredibly rude I couldn't work with them. She actually made the situation feel worse with her attitude.I then called Billings Towing & Repair and spoke with a gentleman that was extremely pleasant and willing to answer my questions to help me understand what it would take to tow my car. We tried to see if we could move it on our own, but were unsuccessful. When I called back, they said they had sent their truck to another pick up and promptly recommended another company so we could get assistance faster. That company was able to help with no issues at all, making a stressful situation a bit more bearable.I give a 5 star rating because the level of patience and empathy shown to us was beyond greatly appreciated at that moment and 100% went a long way with calming the nerves of a mom stuck on the side of the interstate with 2 kids as night set in. Never underestimate the importance of excellent customer service! Even if they weren't able to help us this time, I know they would be someplace I would call again if we ever need assistance! Thank you for taking such great care of people and for showing care and empathy when others do not!

These folks helped me out when I was in a tough spot. they had my old pick-up to one stop Automotive the same day and even let me pat for the tow when my truck was done. very courteous, very professional, fair prices

About Billings Towing & Recovery
Dee Jay Bee Incorporated (Billings  Towing & Recovery) was founded by Don Blyton, a Montana native with deep roots in the community.  Born in Wilbaux and raised in Arlee, Don always dreamt of being his own boss.  In 1984, that dream became a reality when he started a company that has grown to become a successful towing & repair business that serves private, commercial, & government entities.
Over the decades, Dee Jay Bee has grown, and acquired other local companies to better serve the Billings community.  Our family of brands includes Billings Towing & Recovery, DJ's Towing, Interstate Wrecker Service, and Top Notch Towing.
Our mission is to distinguish ourselves as the premier towing service provider in the industry by effectively and efficiently satisfying customer needs and expectations during all transactions.   We look forward to serving you, and our local community!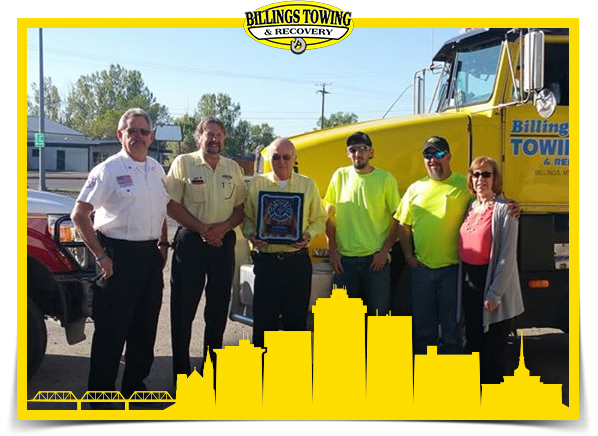 Contact Us Today for Your Towing Needs!
We Proudly Provide Towing Services to the Greater Billings Area
Serving Central Montana, Eastern Montana, & Northern Wyoming