Roadside Assistance in Billings Montana
Jump Starts
There are a number of reasons why your car might fail to start, many times it's a dead battery. Your battery can become discharged due to its age, extremes of weather, and even your driving habits. If your car won't start and you suspect a dead battery, give us a call and we can provide prompt jump start service!
Fuel Delivery
These things happen at the most inconvenient time. You've run out of gas on the way to work and are stuck on the side of the road. The good news is Billings Towing & Recovery is always just minutes away and provides full service gas delivery.  We can provide you with gas so you can safely reach a gas station to fill up and be on your way!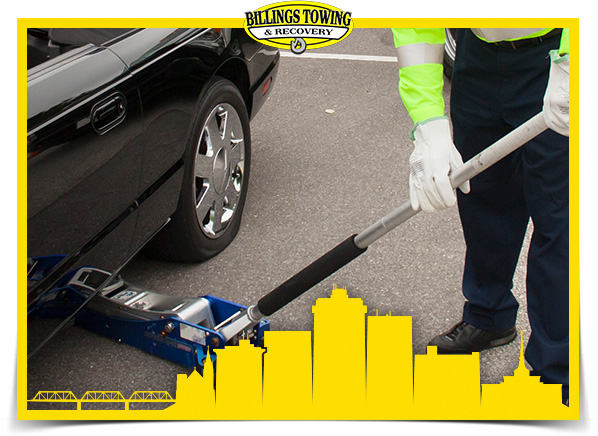 Tire Change
Flat tires happen.  Changing a flat tire is not something you want to do in the cold, or if you're dressed for work.  There's no need to worry, give us a call and we'll be there promptly to provide you with a fast & courteous tire change.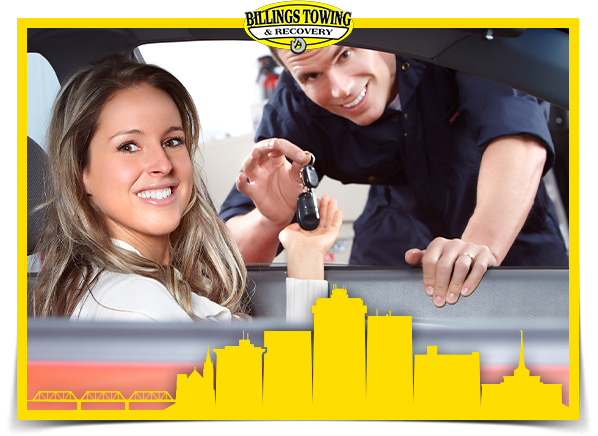 Lockout Service
Locked your keys in your car?  We've all been there!  The team at Billings Towing & Recovery can help get your car unlocked safely, and without damage.  Trust your car to our certified professionals, and we'll have you back in your car and on the road in no time!
Request Roadside Assistance Now!
Why Choose Billings Towing & Recovery?
Dee Jay Bee Incorporated (Billings  Towing & Recovery) was founded by Don Blyton, a Montana native with deep roots in the community.  Born in Wilbaux and raised in Arlee, Don always dreamt of being his own boss.  In 1984, that dream became a reality when he started a company that has grown to become a successful towing & repair business that serves private, commercial, & government entities.
Over the decades, Dee Jay Bee has grown, and acquired other local companies to better serve the Billings community.  Our family of brands includes Billings Towing & Recovery, DJ's Towing, Interstate Wrecker Service, and Top Notch Towing.
Our mission is to distinguish ourselves as the premier towing service provider in the industry by effectively and efficiently satisfying customer needs and expectations during all transactions.  We look forward to serving you, and our local community!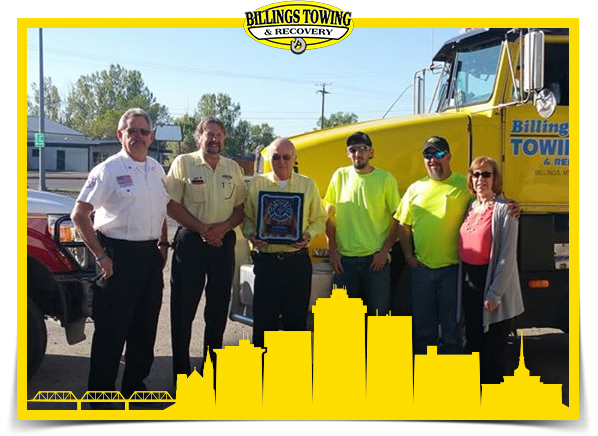 Contact Us Today for Your Towing Needs!
Rated
★★★★★

based on

51+

customer reviews!
Proffessional staff,good price.

The tow truck driver contacted me when he was on his way, which I very much appreciated, as it was about 7:45 PM and the sun was setting. I was able to learn right away that Anderson Towing would be able to give me a ride to my home after towing my vehicle to the dealership for service the next morning.The towing driver was clean, calm and well spoken. He explained the process he needed to follow as we went along. He opened the cab door to his truck cab so that when I was ready, I could wait in the cab, out of the slightly chilly breeze. There was room in the cab for a grocery box with personal items that I needed to take with me, as well as a rather large back pack. The truck cab was clean and uncluttered.I noticed that Al, the tow driver, was careful in placing my all-wheel drive Volvo on the towing equipment, adjusting the restraining straps, etc, and paying attention to the work at hand. Because both tires on the driver's side were flat , the load was not balanced in a typical configuration. For safety of both the vehicle towing and my car being towed, Al contacted the business owner, who came out and helped Al make some adjustments. Soon we were on the way, and the trip could not have been smoother; as a passenger, there was no sense at all that that we were being "followed" by my disabled car on a trolley.Delivering my car to the service entrance and disengaging the trolley went quickly and efficiently. I was inside my home within two hours of Al letting me know he was on his way to help me. Throughout this experience, I was treated with respect and consideration; my vehicle and I were in good hands, working with a thoughtful person who took pride in his work. I had a clear sense that this exactly what his boss expected.Actually, over the years, I've dealt with quite a few tow drivers and tow companies. This was the cleanest, most organized, and thoroughly professional service I have ever known. It was a comforting way to end an unexpected and stressful event.Thank you, Al, and Anderson Towing, and Travelers' Insurance.

These guys went above ande beyond in helping get our 44' Motorcoach out of the middle of Yellowstone National Park. I was able to get it outside the park by myself, but they were willing to come get it there.Very professional and you could tell they "knew their stuff!" I highly recommend them! In fact, I even gave them a $100 tip! Top Drawer company and people to deal with. Very good on communication.David Long

Joanne was extremely friendly and very helpful. Had a very unusual request and she totally delivered. I gretatly appreciate it!

My friend and I broke down on the interstate heading back home from Billings and the guy that came and towed us went above and beyond to help us. Not only was he extremely professional but he gave us a ride in his personal vehicle to the only hotel that had a room to make sure we weren't stranded in a town we aren't from with no where to go. I can't thank this company and this man enough for going the extra mile in an extremely stressful time, THANK YOU! This man needs a raise!